Soter Building
Soter Building
As the history of architecture teaches us, the most interesting design challenges are often linked to a happy relationship between the client and the project designer: in our case, a brother and sister inherited a building in the modern part of Lecce, close to the Old Town, and – thanks to the opportunities offered by the Housing Plan – decided to demolish and rebuild the original construction, thus honouring their father's memory with a new, quality building.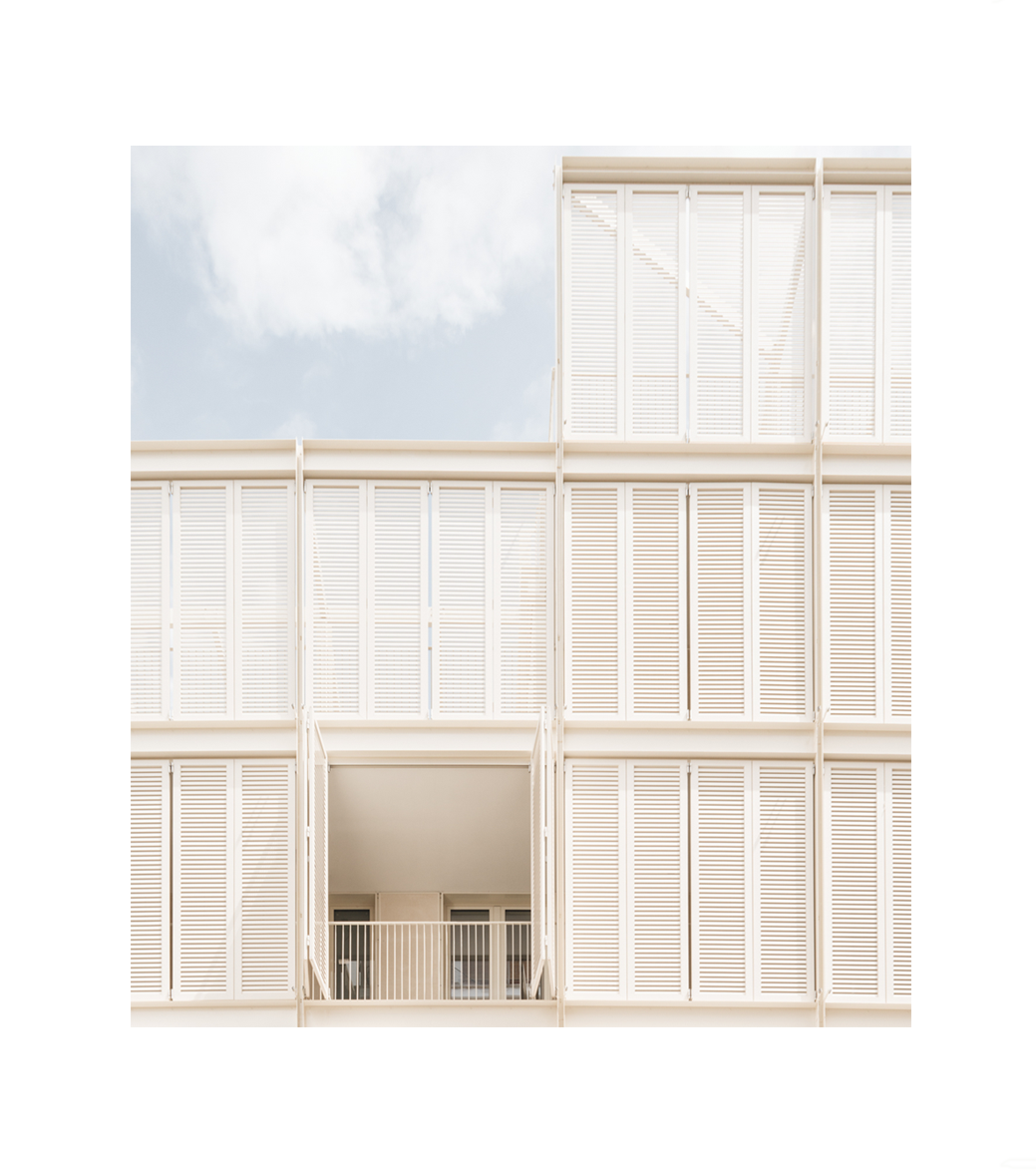 The project was drawn up based on good architectural practices and conceived in keeping with sustainable building principles, developed in collaboration with Pedone Working and in accordance with the new ITACA protocol, through which the Municipality of Lecce offers financial advantages to those who comply with a detailed list of energy saving measures.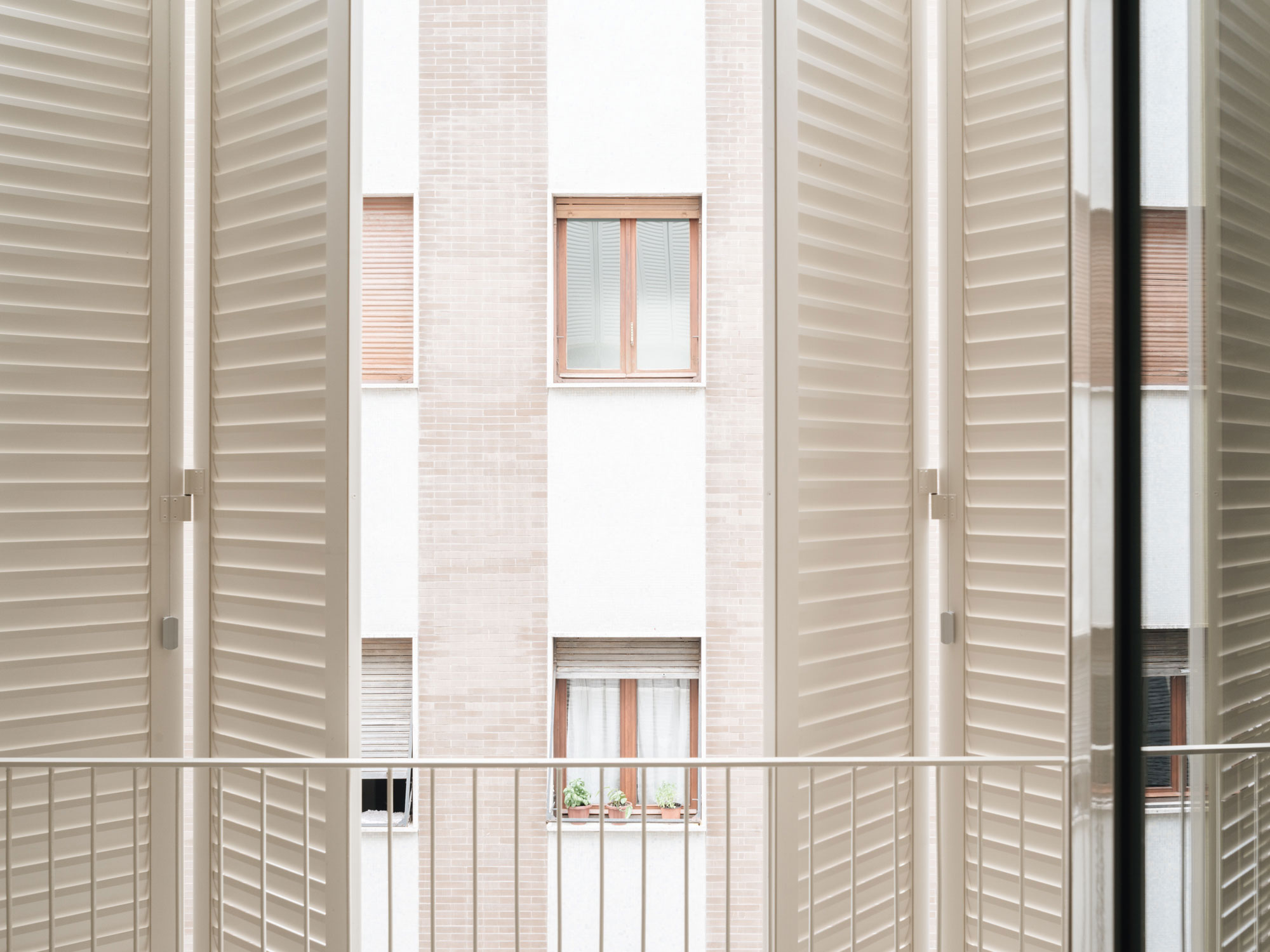 The building is located on a corner, mainly facing south, in an urban fabric that expanded in the post-war years and underwent widespread changes in the 1970s. Contemplated in the project was a reduction in the depth of the previous building, reaching the height of the surrounding buildings to realign the construction with the street front and creating a green area on the inside: the roof of the commercial floor of the building has been turned into a garden.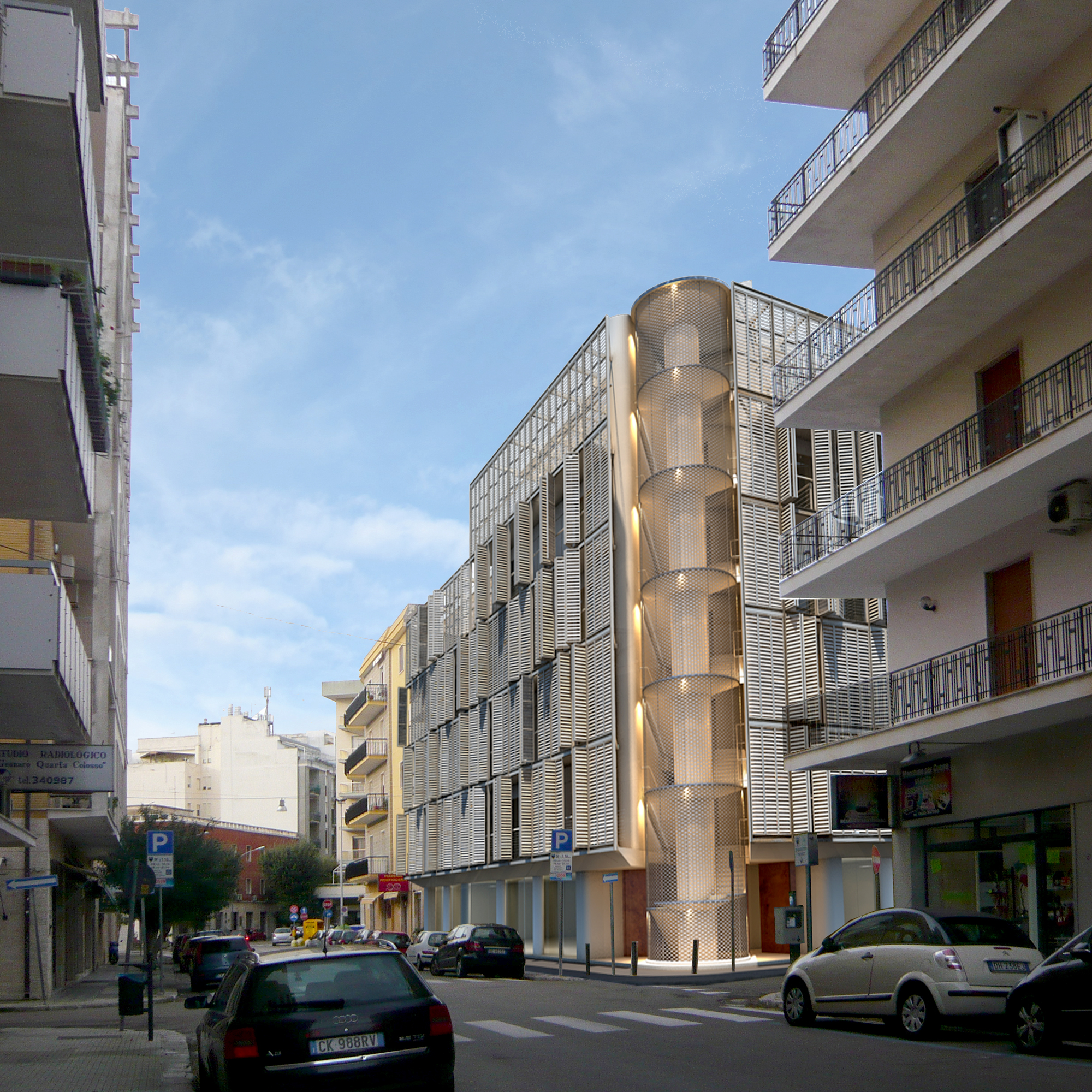 The ventilated facade on the front is in leccese stone, dry-mounted on metal frames. On the parts facing south is a further filter formed by shutters coming away from a slender, continuous balcony, which offer protection from the heat and shade from the light, so the appearance of the facade changes with the movement of the sun.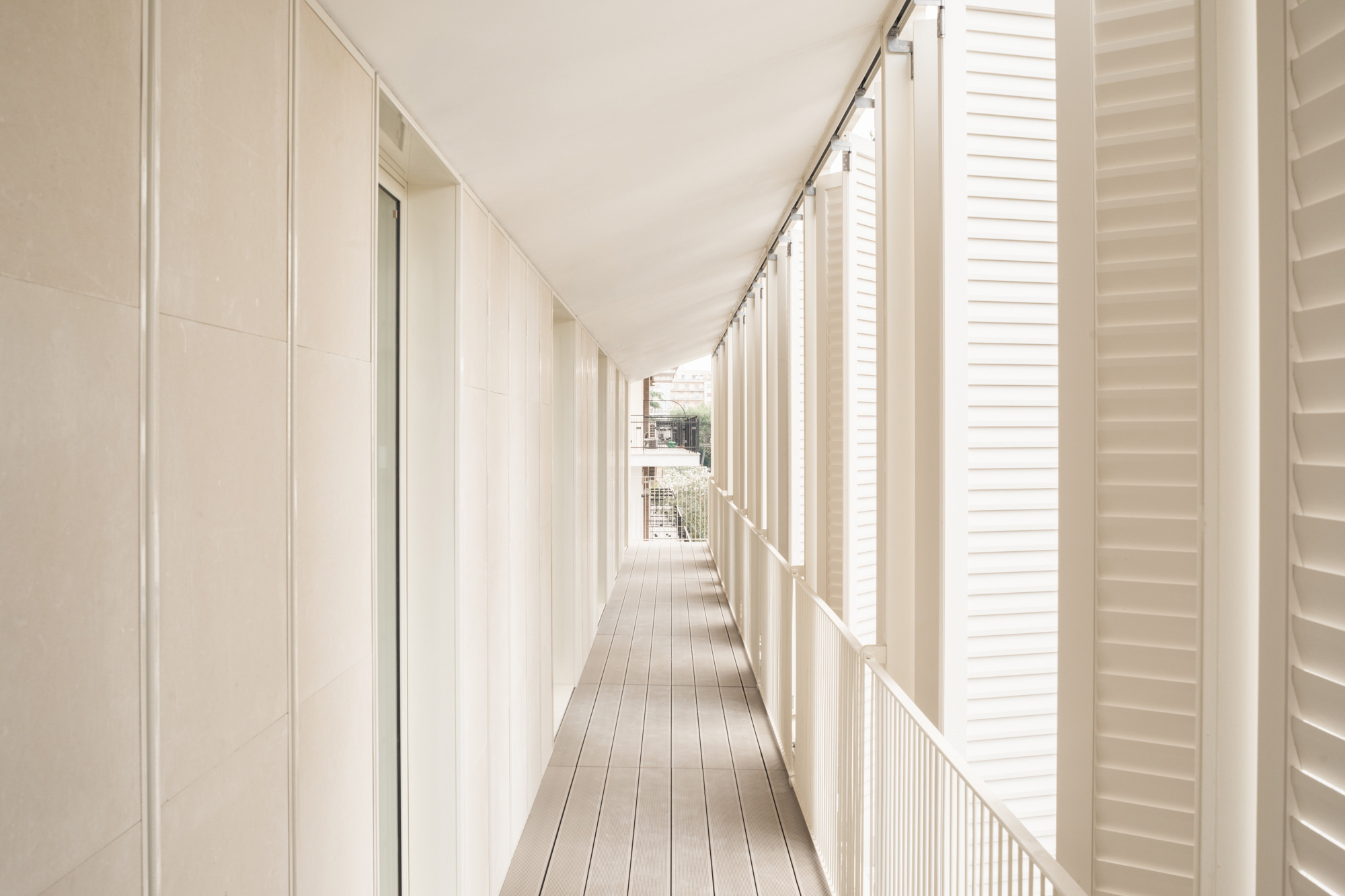 The idea is to turn the positive energy balance in technical terms into a pleasing overlapping interplay of light and shade, against the background mostly formed by the ivory-coloured local stone. The two shading filters are visually reconjoined by the central stairway in fair faced concrete and perforated sheet metal. The ground floor, where shops are located, moves away from the pavement thanks to the particularly uneven pace created by the continuous window pane.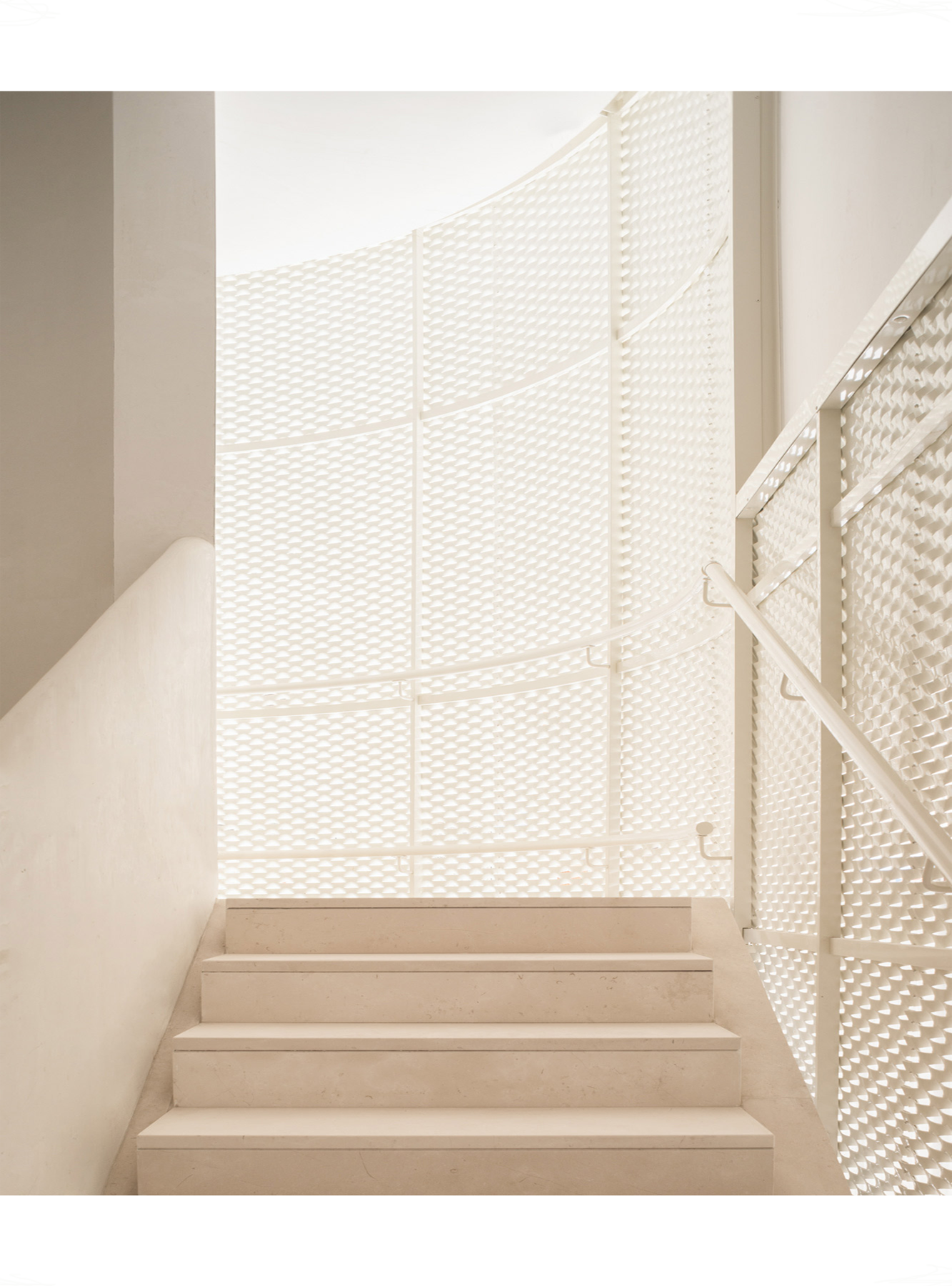 INFORMATION
Structural Engineer
Ing. Luciano Ostuni
Mechanical and Environmental Engineer
P.I. Stefano Portaluri
Works Supervisors
Arch. Maurizio Liaci, Arch. Fabio Cito
Sustainable Design
PEDONE WORKING SRL