THE MAPLE BEND
THE MAPLE BEND
Situation before the work: an apartment of almost 10 square metres, a long rectangle broken up into small spaces and rooms, a suffocating maze where there was no perception of the most important presence: the light from a splendid narrow terrace at the end of the shorter side.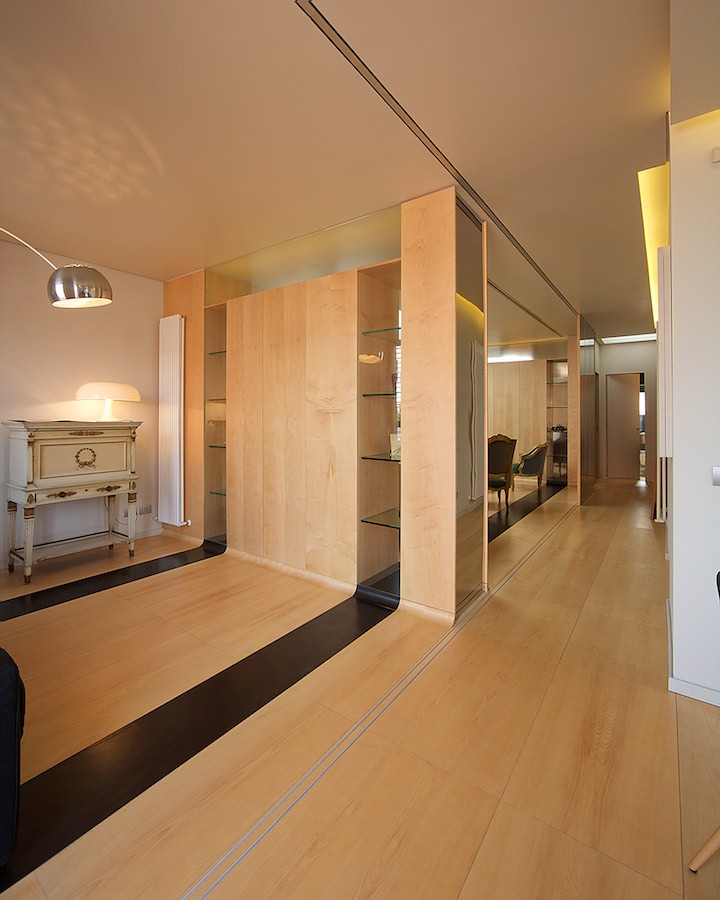 Leaving two independent bedrooms, functionally isolated from the rest of the house, as requested by the Clients, the whole reception area was turned into an open plan setting looking onto the terrace: the parquet, formed by large maple wood rectangles, shaped on the dimensions of the wall cupboard (double the width of the open vein veneer), ripples up at the end like a sheet of paper into a vertical wall at the openings of the cupboards, which divide the sitting room from the study: these cupboards, which divide the spaces, do not reach right up to the ceiling, so that the continuous effect of the ceiling stretching between the two remains visible.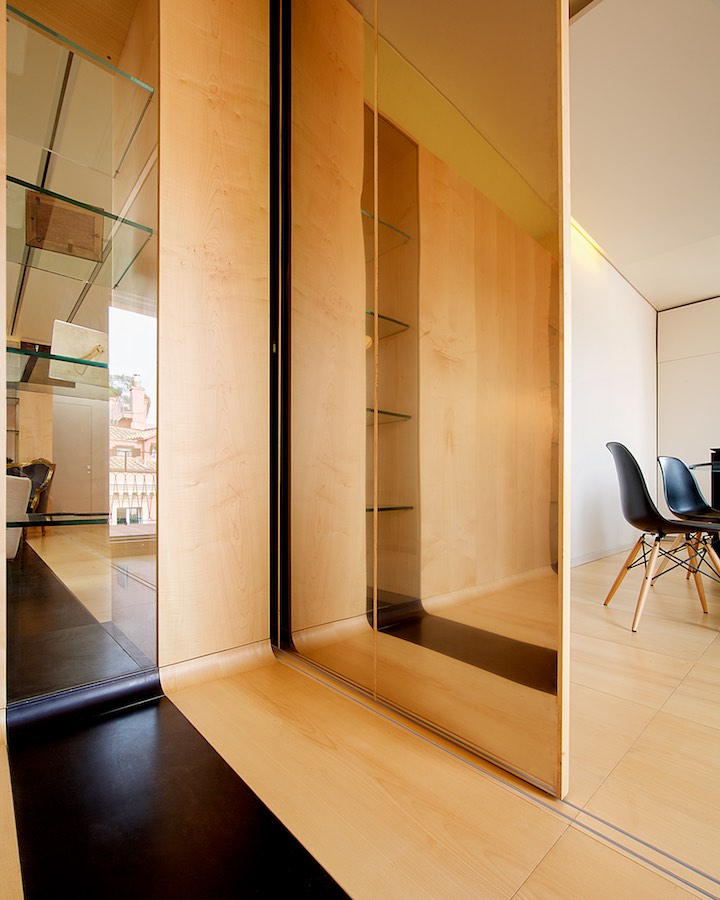 The permeability of the two parts of the reception area is enhanced by the presence of a number of display unit openings that break up the wall cupboards. The wax-coated iron strips running lengthwise along the floor at these openings further enhance the smooth sense of continuity between the spaces.
The only vertical element, in contrast with the longitudinal lines in the sitting room area, is formed by the skylight, which was already present: a rectangle that lets the light from the flat roof shine in on the fireplace.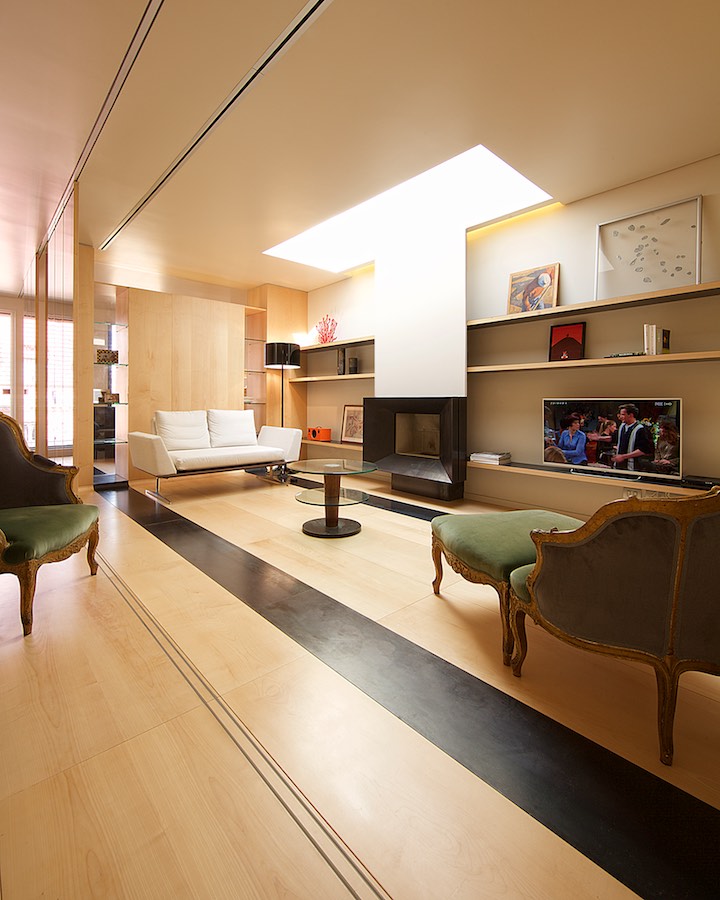 The longitudinal corridor that runs right through the home, is tangential to the entrance door, and the corridor and the reception rooms are divided by a simple track on the parquet, where – in various positions depending on the functional requirements of the moment – large sliding doors in mirror steel can be placed. In this way, the continuity of the spaces is boosted yet rendered more elusive, thanks to the endless interplay of the reflections.
The kitchen/dining area opens up the space at the external wall at the front, which runs parallel to the terrace.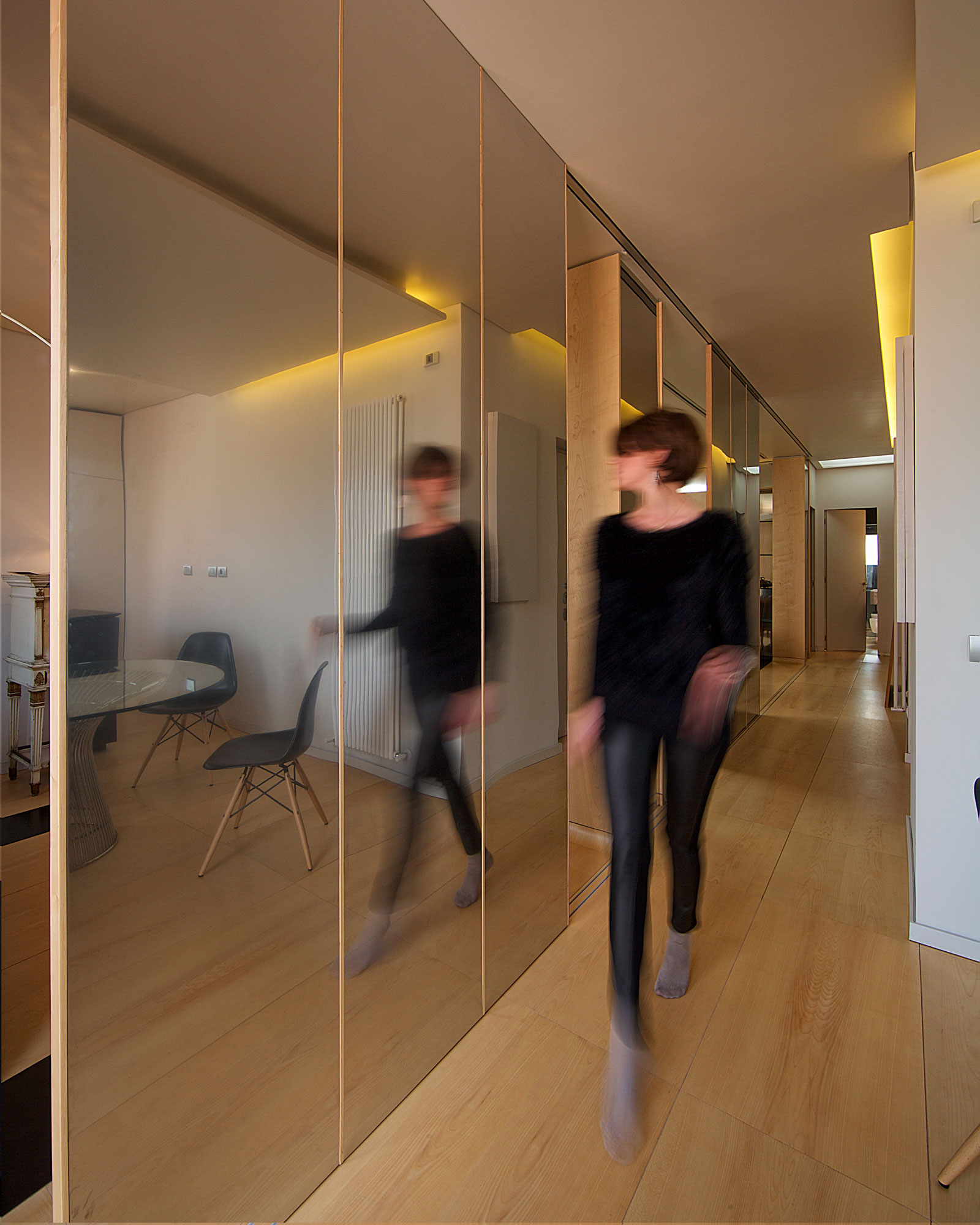 INFORMATION
Construction
John Catena
Wood works
Artigianmobili
Kitchen
Emporio Cucine Srl